Shop for Alutec Alloys & Wheels - Buy Alutec Alloys from Wheel Base the UK's leading Alloy Wheels website. Alutec is a new German alloy wheel range exclusively distributed in the UK by Wolfrace. The Alutec brand offers a new range of striking wheel designs to cater for a wide range of vehicles. All Alutec wheels are TUV approved.
Alutec V Silver Alloy Wheels
Shop for Alutec V Silver alloy wheels. High quality statement alloy wheels from Alutec. Travel in style with Alutec Alloys. View all Alutec alloy wheels
Looking for a set of new Alutec V Silver alloy wheels and tyres?

Our Alutec V Wheel and Tyre packages are designed to save you money and time. What could be simpler than buying a complete set of Alutec V wheels and - no need to get your tyres fitted at a local garage. We have a wide selection of tyre brands, ranging from our economy tyres if you are on a budget to our premium tyres including Pirelli, Continental, Dunlop, Michelin and Bridgestone. Simply select your car make and model then choose the best wheel for your budget.
We recommend
Wheel and Tyre Packages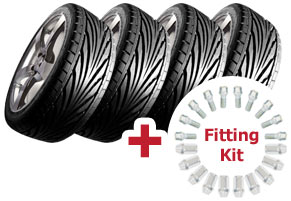 Four Alloy Wheels + Fitted Tyres + Fitting Kit
All packages include 4 alloy wheels, 4 tyres and a free fitting kit. They are fully fitted and balanced to the highest standards. Every order is fitment checked and supplied with the correct fitting kit. When you receive your package, all you need to do is fix them to your vehicle with the fitting kit supplied. If a 5th wheel and tyre is required for a spare, please call our sales team on 0800 130 3400, they will be happy to help.
All Tyres professionally fitted to the Alloy Wheels.
All Alloy Wheels & Tyres are professionally inflated to the correct pressure.
All Wheels & Tyres are fully balanced with the latest balancing equipment.
All Wheels & Tyres are balanced with top quality Trax weights.
All Wheels & Tyres are packaged to the highest standards.
All Alloy Wheels & Tyres are fully insured during shipping.
Sales Advice? CALL our expert team on
0800 130 3400